Eigentumswohnung - 9872 MILLSTATT AM SEE - 68 m² - 248012 - NO COMMISSION, NO BROKER, YOUR DESIRED DREAM HOUSE IN MILLSTATT AM SEE
---
Voriges Bild
ca.
€ 11.100,00
Ersparnis!
x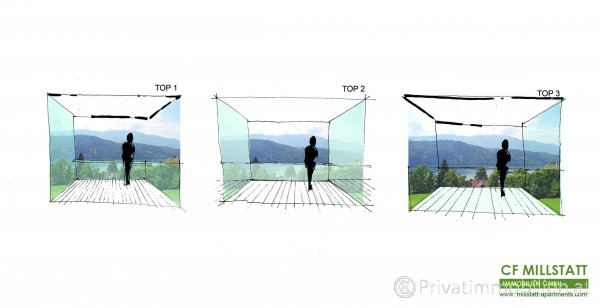 Nächstes Bild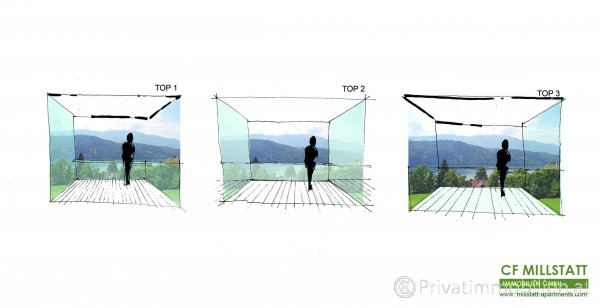 NO COMMISSION, NO BROKER ,DIRECT FROM PROPERTY DEVELOPER,YOUR DESIRED DREAM HOUSE IN MILLSTATT AM SEE
LAUBENDORFER STRAßE, 9872 MILLSTATT AM SEE
The character and quality of the VIVET MILLSTATT apartments are characterized by the modern, functional and forward- looking living concept as well as environmentally friendly design. It is surrounded by views of the mountain and lake. It's the perfect writing retreat, with privacy and all the beauty of nature right outside your door when you need a break from your work.
The apartment is south-faced with a fabulous view of Lake MILLSTATT, and is extended with a terrace or a balcony, occupying a beautiful setting amidst the unspoilt, open countryside of MILLSTATT with stunning scenery and the opportunity for rural pursuits.
YOUR DESIRED DREAM HOUSE IN MILLSTATT
The construction will start in 2021/22
We sincerely invite you to realize your dream home and the place of relaxation!
Until December 2021, you have the opportunity to reschedule the given apartment layout with our partner architect office, according to your ideas, for realizing your dream home.
APARTMENT No.1
-Ground floor
-Size: 63, 29 m2
-Rooms: 3
-Balcony: 16, 67 m2
-Parking: 2 parking spaces: 1 sheltered and 1 underground parking space
-Sale Price: € 406 000. - (INCL. 2 PARKING SPACES, sheltered and underground parking space)
-Sale Price without car park, apartment only: € 370 000.-
-no Commission, no Broker, direct from Property developer and Architect to realize your dream home.
INFRASTRUCTURE:
Millstätter See 10 minutes walking distance.
Millstatt center 5 minutes walking distance
Sportberg Goldeck 15 minutes by car
Div. Shops within walking distance.
Schools 10 minutes walking
Airports: Klagenfurt 45 minutes, Ljubljana 1 hour, Salzburg 1.5 hours, Venice and Munich 2.5 hours, Vienna 3.5 hours.
FACILITIES
-Porcelain stoneware
-High-quality oak- parquet floor
-High-quality tiles
-Decorative stainless steel elements
-White ceramic in sanitary rooms
Facilities in the Vivet Millstatt provide a contemporary and eco-friendly design. High-quality oak parquet-flooring from the Company Weitzer, enhances the warm atmosphere in the lounges and corridors. High-quality tiles, stainless steel and furnishings from Laufen made out of white ceramic, promise a refreshing atmosphere in the sanitary rooms, as well as easy maintenance. The lobby and storage rooms are covered with modern and lengthened porcelain stoneware in the size of 30 x 60cm, made by Iperceramica Company.
The Vivet Millstatt also has a district heating system. The windows and balcony doors are made of triple insulation glass, therefore ensuring optimal thermal insulation and sound insulation. The dual aspect, open plan lounge/ kitchen is the heart of this apartment with large windows affording views up to Millstatt Lake.
KITCHEN
The kitchen can be arranged by the customer according to the wish.
SUSTAINABILITY
The overall plan is based on environmental aspects as well as the relevant material values, as well as economic aspects such as operating costs and socio-cultural aspects, as well as the effects on the development aspect. The goal of the sustainable concept is to minimize energy consumption. The influencing factors to be optimized - the selection of materials is based on the process and technology, as well as the maintenance of the green areas.
THE FIRST CONTACT PLEASE BY EMAIL
Objektart:
Eigentumswohnung
| | |
| --- | --- |
| Altbau/Neubau | Neubau |
| Zustand | Erstbezug |
| Nutzfläche | 68 m² |
| Stockwerk | 1 |
| Anzahl der Zimmer | 3 |
Küche
Balkon
Garage/Parkplatz
Keller
| | |
| --- | --- |
| Bundesland | Kärnten |
| Bezirk | Spittal an der Drau |
| PLZ | 9872 |
| Ort | MILLSTATT AM SEE |
Das Kontaktdaten Abo für Eigentumswohnungen ist für 30 Tage gültig und ermöglicht Ihnen die direkte Kontaktaufnahme mit sämtlichen Anbietern der in www.privatimmobilien.at inserierten Eigentumswohnungen.


Mit einem Kontaktdaten-Zugang ersparen Sie sich bei diesem Objekt
ca. € 11.100,00
an Maklerprovision
Objekt ansehen